Looking to lighten up your family dinners without sacrificing taste? I've got you. This Roasted Tomato and Pesto Spaghetti Squash hits all the taste buds without all the calories. It's easy enough to make on a weeknight and guaranteed family friendly. I am going to tell you exactly how to easily prepare it. Gluten free, low carb, vegetarian, and keto friendly.
How to make Roasted Tomato and Pesto Spaghetti Squash
Spaghetti squash is one of those vegetables that is so versatile. I love to find new ways to prepare and enjoy it. Pesto is one of my new favorite condiments to play with in the kitchen. A little bit goes a long way on flavor. I used a vegan store bought pesto and any brand will work for quick and easy prep. First, let's talk about cooking your spaghetti squash.
What's the best way to cook spaghetti squash?
I've got 3 easy options for you. First, poke holes in your squash (a very important step do not skip or you will have a huge mess). Stick it in the microwave and cook for 3-5 so that you can easily cut it lengthwise and discard the seeds.
Method 1 is roasting it in the oven. Simply drizzle with a little olive oil, salt, and pepper and bake for about 40 min until you can easily scrape out the "noodles" with a fork.
Method 2 place in a glass casserole dish with an inch of water, cover with plastic wrap, and microwave for 8-10 min.
Method 3 is my new go to. Follow prep steps in #1 and air fry for 10 minutes. I have this toaster/air fryer combo that I love for almost every vegetable. You can literally do everything with this thing and I use it every day.
While your squash is cooking, roast your cherry or angel sweet tomatoes in an oven safe skillet for 20 minutes or until they burst. Reserve that juice because it's going to give your "noodles" a ton of flavor. Add your pesto sauce to the skillet and slowly fold in your spaghetti squash to combine.
This low carb, lower calorie Roasted Tomato and Pesto Spaghetti Squash is a perfect side to any meal. Keto, low carb, and vegetarian friendly. It's super easy to customize for your family.
Need more protein?
Add shrimp, chicken, sausage, or any protein and combine for a heartier all in one meal.
Can I freeze this meal?
I would not freeze it as Spaghetti squash gets a little mushy when frozen. It can be stored in the fridge for 5 days and reheated in the microwave or on the stove.
Other Spaghetti Squash recipes to try:
Spaghetti Squash and Spinach Lasagna (vegetarian, GF, Low Carb, High Protein)
Spaghetti Squash & Spinach Egg Bites (vegetarian, GF, Low Carb, High Protein)
Yield:

4
How To make this Family Approved Roasted Tomato and Pesto Spaghetti Squash
Easy weeknight family dinner inspiration. This 5 ingredient roasted tomato & Pesto Spaghetti Squash dinner is full of flavor and a guaranteed hit at your table. low carb, low calorie, gluten free, vegetarian
Ingredients
1 large spaghetti squash-cooked (approximately 400 grams)
2 Cups of cherry tomatoes
3 Tbl Pesto
olive oil for cooking
salt, pepper, garlic powder to taste
optional topping of Parmasean cheese
Instructions
Cook spaghetti squash according to directions in post and scrape out noodles
meanwhile, drizzle tomatoes w olive oil & season with salt, pepper and garlic powder.
Roast tomatoes for 20 min at 400 degrees in oven safe skillet
In the same skillet, fold in spaghetti squash noodles and gently combine with pesto and tomatoes
Optional topping of Parmesan cheese
Notes
Prepare spaghetti squash as you wish I give 3 preparation techniques in post
Nutrition Information:
Yield:

4
Serving Size:

1
Amount Per Serving:
Calories:

360
Total Fat:

28g
Saturated Fat:

5g
Trans Fat:

0g
Unsaturated Fat:

21g
Cholesterol:

12mg
Sodium:

452mg
Carbohydrates:

23g
Fiber:

5g
Sugar:

8g
Protein:

8g
nutrition may vary depending on which pesto you choose to use
Hope you enjoy this easy, family approved Roasted tomato and Pesto Spaghetti Squash at your dinner table. Thanks for stopping in!
Sarah and I both thank you for checking out our new Cook Well, Eat Well, Live Well series and hope you find some new inspiration here each Monday.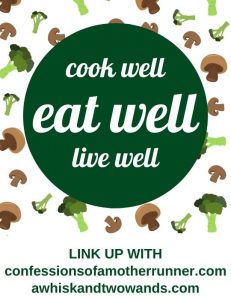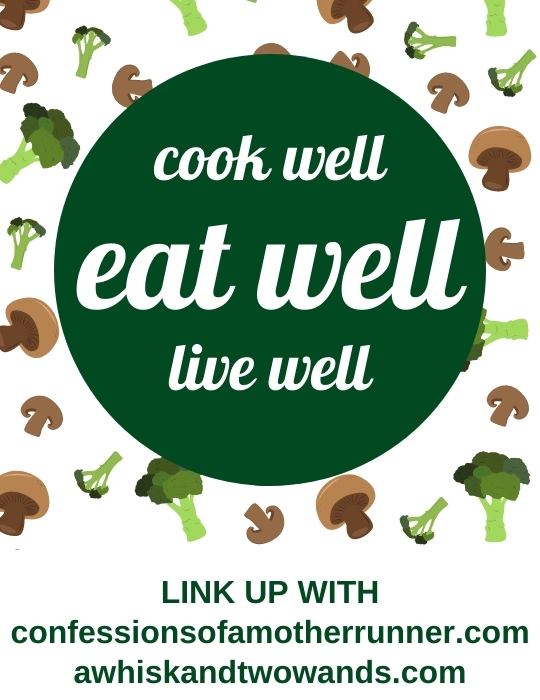 You are invited to the Inlinkz link party!