Thanks for joining me and Sarah for Meatless Monday today. Hope everyone had a lovely Passover and Easter weekend with friends and family. I feel very lucky to have both my kids home with us this past week. My daughter has been studying in Tel Aviv this semester and her visit home inspired us to make an Israeli themed dinner. This Roasted Chermoula Eggplant with Farro and Spiced Chick Peas could not have been more delicious. I am so excited to share the recipe with you.

Roasted Chermoula Eggplant with Farro and Spiced Chick Peas
This is one of those recipes that looks very complicated and time consuming but really is just the opposite. I promise! It's an easy sheet pan meal. You know I am all about healthy meals that are easy enough for a weeknight family meal. This Roasted Chermoula Eggplant With Farro and Spiced Chick Peas is no exception.
So what is Chermoula sauce you ask? Chermoula is a spice blend of some of my favorite flavors including garlic, cumin, paprika, coriander, lemon and olive oil. Think a Chimichurri style. These flavors are combined into a paste and then smeared on top of the eggplant before roasting allowing them to ooze right in and create a taste to die for.
I roasted the spiced chick peas right on the same sheet pan as the eggplant. They are tossed in a little siracha powder or chili powder. The perfect way to get a little more protein in. I used Farro for the grain here because I wanted something a little heartier. Sub Brown rice (for Gluten free option)  or Cous Cous would also work just as well. We adorned the Farro with some yellow raisins and almond slices for texture.
I threw some fresh Pomegranate seeds on top before serving to add some color and a little bit of sweetness to balance out the savory spices. Not to pat myself on the back or anything but, I was pretty impressed with how amazing this Roasted Chermoula Eggplant with Farro And Spiced Chick peas came out. Hope you try it out! I promise it's not complicated at all. Gluten free and Vegan.
Roasted Chermoula Eggplant with Farro and Spiced Chick Peas

Ingredients
For Farro:
1 cup of Farro (prepared according to package)
1/2 C slivered almonds
1/2 C yellow raisins
handful fresh parsley-chopped
For Chermoula sauce:
2 garlic cloves
dash of kosher salt
2 tsp cumin
2 tsp coriander
2 tsp smoked paprika
1 tsp red pepper (optional)
juice of one lemon
1/2 C Olive Oil
For Eggplant:
2 baby eggplants -sliced length wise
salt & pepper to taste
Olive oil
1 Can of Chick Peas-rinsed and drained
garnish:
1/2 C fresh Pomegranate seeds
fresh parsley and cilantro
Instructions
Preheat oven to 400 degrees
Prepare Farro (or grain of choice according to package)
Mix in raisins and almonds before serving
Place eggplant on a large sheet pan
Score the eggplants with X's in both directions so sauce can absorb in
In a food processor add all Chermoula ingredients and pulse until combined
Drizzle eggplant with olive oil, salt and pepper
Smear Chermoula sauce on top of each eggplant half
Add chick peas to sheet pan
Sprinkle chick peas with olive oil and chili powder, salt
Bake for approx 20 min until eggplant is soft
Serve on top of of Farro
Sprinkle with Pomegranate seeds and fresh spices
Serve and enjoy
Optional add a little Greek Yogurt or Tzatziki sauce on top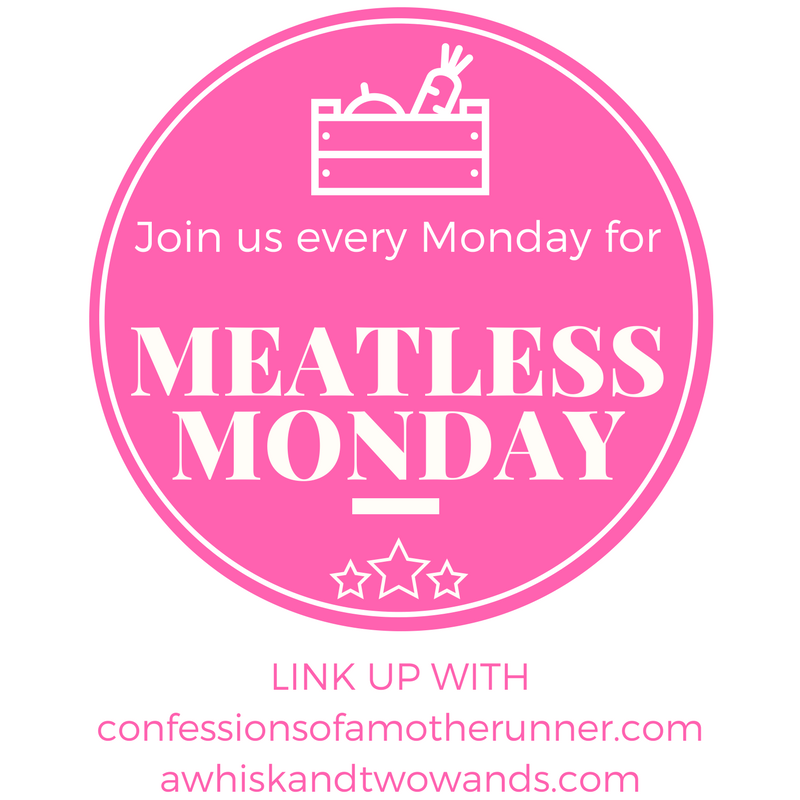 Loading InLinkz ...