This is the dish that won my family over to eggplant forever! Honestly, they loved these Eggplant and Portobello Mushroom No Mealt Meatballs and ask for them on a regular basis. I promise even your meat loving family members will eat these up and ask for seconds. Here's how to make them. Thanks for joining Sarah and me for Meatless Monday today.
how to make Eggplant and Portobello Mushroom Meatballs everyone will love
I made a huge batch of these for a dinner party and found all kinds of ways to use up the leftovers. They are super versatile and easy to repurpose into a second meal. Of course, my favorite way to enjoy them is on top of spaghetti. Later in the week, we served them with spaghetti squash and my son found them delish in a "meatball sub" with melted mozzarella.
The combination of roasted eggplant and Portobello mushrooms mixed with white beans gives these Vegan meatballs a fantastic hearty texture. Roasted garlic, oregano, basil, and sage bring out the flavors of the eggplant and mushrooms. Did I mention that the yummiest aromas will waft through your home as you cook them?
You can whip up this fantastically delicious meal in about 45 minutes from start to finish. They are also great made in advance and warmed up a la minute. Why not cook up a big batch and freeze them for those nights when you have no idea what to make.
Filled with plant based protein and layers of flavor, these Vegan Eggplant and Portobello Mushroom Meatballs will satisfy your cravings and fill up your belly with healthy eats. Win your family over with these hearty no meat meatballs everyone will love.
Yield: 6
Vegan Eggplant and Portobello Mushroom Meatballs
Prep Time: 10 minutes

Cook Time: 30 minutes

Total Time: 40 minutes

Win over your family with these "meaty" vegan eggplant and Portobello Meatballs that even meat eaters will dig into. Easy and family friendly.
Ingredients
1 1/2 - 2 lbs of baby eggplant-skin on and cut into slices
3 large portobello mushrooms-halved
15 oz can of white beans-drained
2 garlic cloves
1 C of Panko bread crumbs (can use GF)
olive oil for cooking
1-2 tsp of sage, oregano, basil
dash of red pepper, salt and pepper
parsley for garnish
Instructions
Preheat oven to 375
on a baking sheet place eggplant, mushrooms and garlic cloves
Drizzle on olive oil, salt and pepper
bake for 20 min
In a food processor add:
cooked eggplant, mushrooms and garlic
white beans
all spices
pulse until large pieces of eggplant are chopped
Transfer to a mixing bowl and stir in bread crumbs
chill in fridge for 10 min
form meatballs with mixture
Heat a large skillet with olive oil
cook meatballs for 3 -5 min on each side
Serve with your favorite tomato sauce and enjoy
Nutrition Information:
Yield:
6
Serving Size:
1
Amount Per Serving: Calories: 279Total Fat: 4gSaturated Fat: 1gTrans Fat: 0gUnsaturated Fat: 3gCholesterol: 0mgSodium: 191mgCarbohydrates: 52gFiber: 12gSugar: 9gProtein: 12g

We are excited to announce that next week, Meatless Monday will become Cook Well, Eat Well, Live Well. Hope to see you each week to find and share new healthy recipes to fuel your body for the year ahead.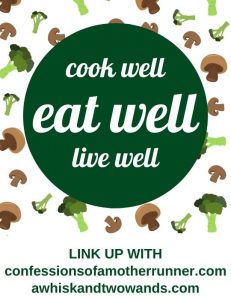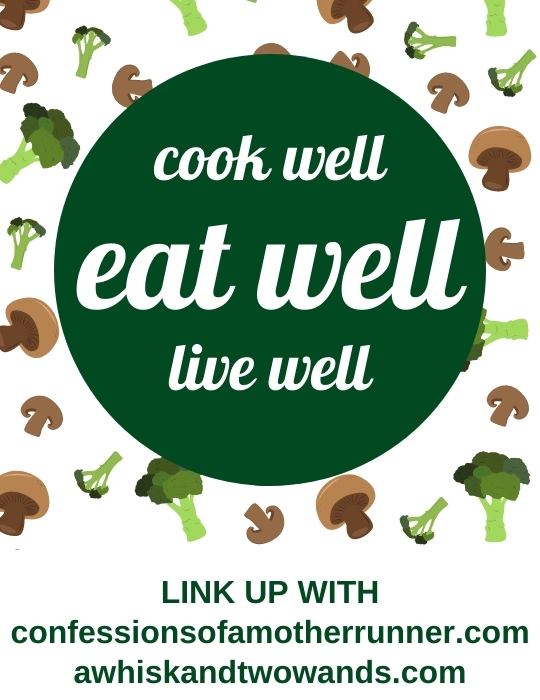 You are invited to the Inlinkz link party!