Thanks for joining Sarah and me for Meatless Monday today. Baba Ganoush, the creamy Mediterranean eggplant dip, has long been a favorite of mine. With the abundance of zucchini this time of the year, I put a little twist on the classic and integrated some roasted zucchini in. This bowl of yum is perfect for appetizers or a healthy afternoon snack. Of course you can dip fresh veggies in or pair it with my homemade Everything Bagel Spiced Pita Chips for a an even yummier treat.
Roasted Zucchini Baba Ganoush With Everything Bagel Spiced Pita Chips
The roasted Zucchini Baba Ganoush and the Everything Bagel Spiced Pita Chips are both so easy to make in advance and enjoy for days. I added in equal parts roasted zucchini with eggplant and some roasted garlic. Just place them all on the same sheet pan for about 20-30 min until soft. Throw everything into a food processor with some olive oil, a few spices and a dash of Harissa. Chill for about 30 min and you've got one delicious and filling dip. Football food anyone?
Tell me more about those Everything Bagel Spiced Pita Chips! I've been making homemade pita chips for years and they are so easy. Since I have been kind of obsessed with the TJ Everything Bagel Spice for a while, I wanted to try it out on the pita chips. So good! It's hard to stop eating them. Use a pizza cutter to divide your pita into 8 slices. Take out that same sheet and add your whole wheat pita slices, coat them with cooking spray and/or olive oil. Generously sprinkle on that Everything Bagel Spice and bake them to a delicious crispy chip. Super easy and well worth it to make your own.

This Roasted Zucchini Baba Ganoush with Everything Bagel Spice Pita Chips is going to be my snack of choice this week. Hope it makes it to your "pin it" or "must try" list sometime soon.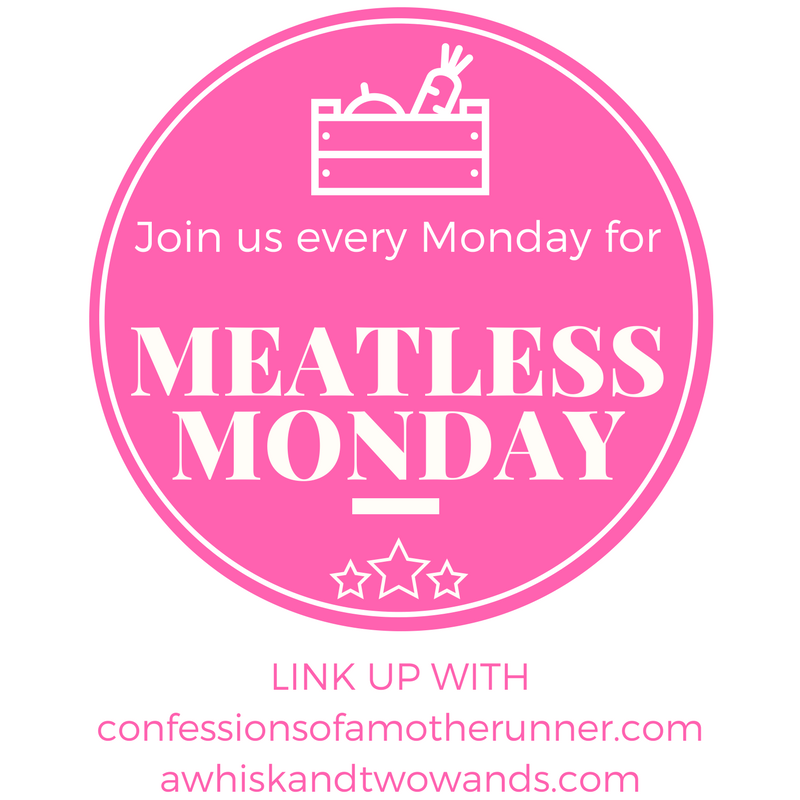 You are invited to the Inlinkz link party!
Roasted Zucchini Baba Ganoush With Everything Bagel Spiced Pita Chips

Ingredients
for the baba ganoush:
1 large or 2 small zucchini-quartered
1 large eggplant-quartered
4 Tbl olive oil and extra for cooking
3-4 garlic cloves
salt and pepper to taste
1 tsp paprika, cumin, coriander
juice of 1/2 lemon
dash of Harissa or Siracha or half a Jalapeño pepper
1/2 c grape tomatoes
For pita chips:
1 package of whole wheat pita -cut into 8 wedges each
cooking spray (I used Pam) or olive oil
Trader Joe's Everything Bagel Spice approx 2 tbl.
Serving suggestions:
baby carrots, cucumber or celery
Instructions
Preheat oven to 400 degrees
Line a sheet pan with foil for easy clean up
Spray with cooking spray or drizzle w olive oil
Place the zucchini, eggplant, garlic cloves and tomatoes on sheet pan
roast for 20-30 min until soft
remove skin from zucchini and eggplant
Add veggies to food processor with
garlic, spices, lemon, olive oil, harissa or Siracha
pulse until creamy
chill for at least 30 min
Meanwhile add pita wedges to sheet pan
spray with cooking spray or olive oil
sprinkle on Everything Bagel Spice
Bake for 10-15 min and then turn over and respray
check frequently to avoid burning
bake another 10 m until crispy
allow to cool and serve
Can store in air tight container for up to a week