Love a good egg roll but not ready to blow a whole day's worth of calories? Same here! Enter my Better Than Take Out 10 Minute Healthy Egg Roll In A Bowl. This ridiculously easy and quick recipe will give you that Chinese take out food fix you crave without all the added sodium and calories that often come along with it. It's a snap to customize it to your family's tastes as well. This meal is gluten-free, low carb, and has vegan options. Let me tell you how to make it.
Better Than Takeout 10 Minute Healthy Egg Roll in A Bowl
Purple and Green cabbage are the main ingredients of this delish creation. While you certainly can shred your own, it's quick and easy to grab a bag or 2 of the Cole Slaw Mix found in the lettuce aisle. I used one of the traditional coleslaw mixes and added a handful of shredded carrots and a small bag of purple cabbage. Mushrooms are the other star of this dish. I used a combination of baby Portobella and Shitake and cut them on the thicker side to provide some texture and depth. Any combination of mushrooms will do.
Choose your protein
I used scrambled eggs in this version to add some protein and keep it vegetarian. Some other proteins that would be great to add are:
-Crispy Tofu
-Shrimp
-Ground Chicken, Turkey, or Beef
First, do quick prep of your protein in a large skillet. Set aside to add right before serving. Once you have your base of cabbage ready, we do a quick sauté with some garlic, ginger, rice vinegar, and chili paste. Add back in your protein and combine. Keto, Paleo and weight watchers friendly.
Fun Toppings To Add On
This is another way to customize your meal. Any or all of these toppings are great additions:
-Siracha
-Hoisin Sauce (a sweeter option)
-Asian Mustard or Duck Sauce (more traditional takeout options)
-Wonton Chips
-Bean Sprouts
-Sesame Seeds
-Peanuts or Cashews
How To Serve
This Better Than Takeout 10 Min Egg Roll In A Bowl is ready to eat as is with your toppings and protein. It would also be great in Lettuce Wraps, small flour tortillas, or on a bed of rice or cauliflower rice. Leftovers can be eaten cold the next or warmed up. I don't suggest freezing this meal as the cabbage tends to get pretty soggy when frozen.
Hungry for more?
Check out my Low Carb spinach & Spaghetti Squash Lasagna and my Cacio e Pepe zucchini noodles
How will you top and enjoy your Better Than Takeout 10 Minute Egg Roll In A Bowl?
Yield:

4
Better Than Takeout 10 Minute Healthy Egg Roll In A Bowl
Better than takeout this healthier low carb, lower calorie 10 minute Egg Roll in a bowl will become a fan fave. Easy to customize, gluten free, vegetarian
Ingredients
2 Cups of Baby Portobello/Shitake mushrooms thick sliced
14 oz bag Cole Slaw mix
1 C shredded Red Cabbage
1/2 C shredded carrots
2 large eggs
sauce:
1/4 C rice vinegar
2 Tbl Sambal (chili paste) more if you like spicy
2 Tbl lower sodium Soy Sauce
1 Tbl chopped garlic
1-2 Tsp of ginger paste
optional toppings/add ins:
sesame seeds
siracha
lettuce wraps
mini tacos
wonton crackers
seaweed
Instructions
in a large bowl combine the coleslaw mix with cabbage and carrots set aside
whisk together sauce ingredients and set aside
Heat a large skillet to medium heat with drizzle of oil
sauté mushrooms for 2-4 minutes
add in eggs and scramble
add in coleslaw mix and sauce to combine
cook for 2-3 minutes until cabbage is cooked but still firm
top with any desired toppings and sides
Notes
If you are adding another protein, simply cook that before step one and set aside until all ingredients are ready then mix in
Thanks for checking out Cook Well, Eat Well, Live Well with me and Sarah.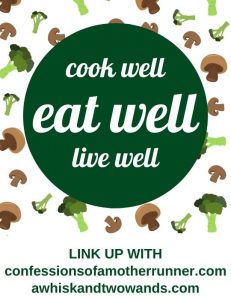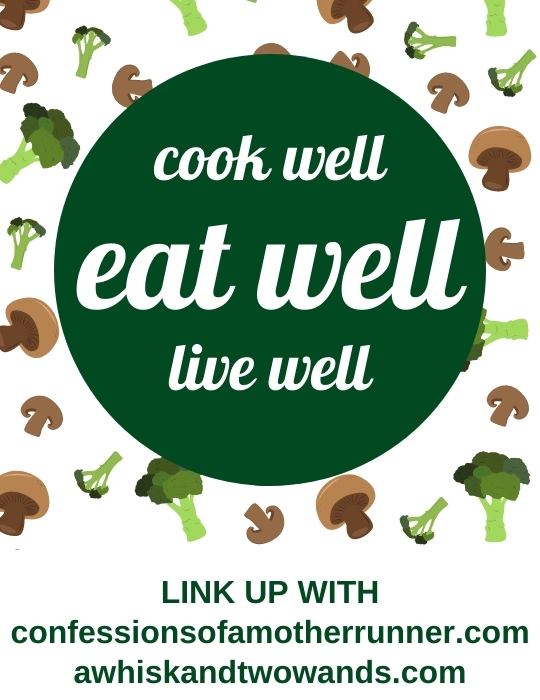 You are invited to the Inlinkz link party!