Thanks for joining Coco and me for the April Ultimate Coffee Date today. It's another busy one around here this week. Grab those mugs and let's get right to it. If we were having coffee together today, I would have lots to chat about with you. We thought it was time for a fun new badge too! What do you think?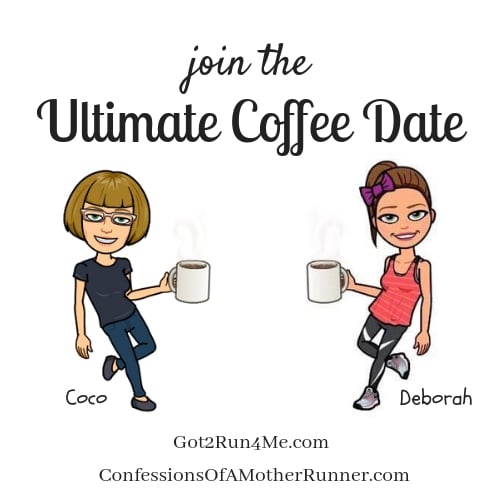 April Ultimate Coffee Date
If we were having coffee, I would tell you…
Seems like we have been planning this Cherry Blossom weekend forever and it's finally here! This weekend I will be hosting both Kim and Linda for the CB 10 miler race weekend. We also have plans tonight to meet up with Coco, Erika and Deb. Yep it's a party! I figured I might as well make it a big one and invite all of my MRTT friends over as well. Champagne is chilling and we are looking forward to a weekend of good times. Stay tuned for lots of photos.
If we were having coffee, I would tell you…
Speaking of the actual Cherry Blossom race, I am little bummed that my ankle injury has set me back a bit. I going into this 10 miler knowing I am a little undertrained and will most likely be walking some of it. This will be my 9th time running the race so I know I can do it. Oddly, I think I am okay with knowing it is going to be a slow one. You may need to remind me that I said that! This one is going to be all about friends and finish lines.
If we were having coffee, I would tell you…
I literally spent 6 hours (over 2 days) sitting in the Chinese Consulate this week trying to apply for travel visas for our family. Literally one of the most exasperating experiences I have had in a long while. Think the DMV times 10! Finally managed to get the visas for myself and my kids but they have decided they need to "further examine" my husband's application. Fabulous right? So I see another trip to the consulate in my future. Ugh! Why you ask? We are taking a family trip to China to celebrate my daughter's graduation. Much more on this later-assuming we actually get the visas.
If we were having coffee, I would tell you…
I cannot believe that we are already half way through the Girls on The Run Season! Weeks are just flying by. I have the 6th graders again this season. I am loving how motivated and excited they are about running.
If we were having coffee, I would tell you…
In case you missed it, there is still time to enter my Jord Watch giveaway. I would really love to have a few more entries! I am really loving my rose gold watch face and get lots of questions and comments about it when I wear it. Thanks!
I certainly talked your ear off today! Lots going on around here. Thanks for joining us and look forward to seeing you back Sunday for the Weekly Run Down. If we were having coffee, what would you tell me?
You are invited to the Inlinkz link party!