Thanks so much for joining Coco and me for the Ultimate Coffee Date January 2021 edition. We made it! Happy New Year everyone. I have lots to chat about with you today. First, if we were having coffee, IRL I would give you the biggest hug because I sure miss everything IRL. Grab you mugs and let's chat!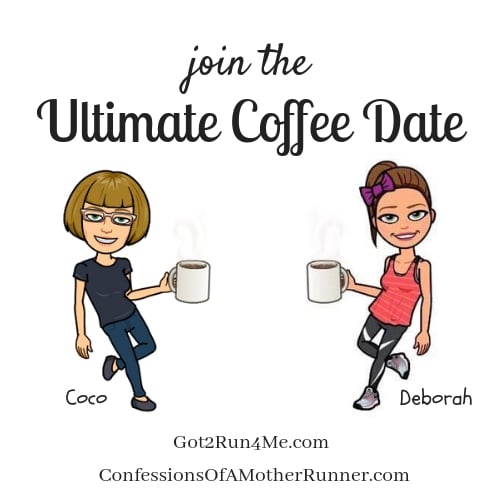 Ultimate Coffee Date January 2021 Happy New Year
If we were having a coffee date, I would tell you…
I am in serious need of a new pillow. I wish there was someone who could ask you a few questions about your sleeping habits, maybe measure your neck or shoulders and pick out the perfect pillow for you. A Pillow Concierge or a Personal Pillow Shopper! I have bought so many that I think will work and then, nope not comfy. It's a serious issue. Any ideas that might help me?
If we were having a coffee date, I would tell you…
I have always been a winter weather runner. There are so many things to love about cooler weather runs and I just discovered another one. I don't have to shave my legs very often. Ha ha it's the little things right!? How often do you shave your legs? inquiring minds want to know?
If we were having a coffee date, I would tell you…
I was sort of surprised to see that my "top nine for 2020" was all Peloton photos. With no finish line photos or silly group photos to speak of, I focused a lot of my photo skills on creating fun Peloton pics. I also embraced all of the strength training classes on Peloton beginning in March. Previously, I did all of my strength with a trainer which ended abruptly in March as well. Were you surprised by your top nine?
Your turn! If we were having a coffee date, what would you tell me? Thanks for joining the January 2021 Ulitmate Coffee Date bring on the new year!
You are invited to the Inlinkz link party!