Thanks for joining Sarah and me for Meatless Monday today. I am always looking for new ways to jazz up my salads. This Orzo and Arugula Greek Salad came about after searching the pantry and fridge for inspiration. Some of my best recipes happen that way!
Orzo and Arugula Greek Salad
I have always loved the simplicity of a Greek salad. Crunchy cucumbers, fresh tomatoes, tangy lemon and salty feta cheese are a delicious combination. I knew I wanted to take a traditional preparation and make it a little heartier. After a quick search of my pantry, adding in some Orzo seemed the perfect choice.
The perfect choice it was. The Orzo and the Arugula made this salad heartier and more filling. I added in some Chick Peas and Cannelli beans to increase the plant based protein. This Orzo and Arugula Greek Salad can now stand alone as a hearty lunch.
Need a gluten free option? Rice can be substituted for the Orzo and will work just as well. Vegan? There are a ton of new plant based cheeses out there now that would be nice options.
This Orzo and Arugula Greek Salad is so easy to prep. In just the time it takes to cook your Orzo, you can have all of our veggies prepped and ready to go. A super simple dressing of Olive Oil, apple cider vinegar, lemon juice, Balsamic and oregano is whisked together and drizzled on top.
Full of plant based protein, bell peppers, tomatoes, cucumbers, Arugula and orzo this salad makes a hearty meal. Easy enough to mix up on a weeknight and enjoy for lunch the next few days. Additionally, The dressing can also be left on the side and drizzled on a la minute. What kinds of salads are you feasting on this month?
Yield: 4-6
Orzo and Arugula Greek Salad Meatless Monday
Prep Time: 15 minutes

Cook Time: 15 minutes

Total Time: 30 minutes

A hearty, healthy & quick vegetarian main dish or side filled with plant based protein and fresh veggies. GF and vegan options offered.
Ingredients
1 Cup of Orzo
1 Cup Chick Peas (canned)
1 Cup Cannelli Beans (canned)
6 Cups of Arugula
1 red & 1 yellow bell pepper (quartered)
2 Cups of grape or cherry tomatoes-halved
1 cup cucumber-diced
4 oz feta cheese-cubed
1 4 oz jar of artichoke hearts-chopped
oregano, salt & pepper to taste
Dressing:
1/3 C olive oil
1/3 C Apple Cider Vinegar
juice of one lemon
splash of balsamic
squirt of honey
dash of salt, pepper & oregano
Instructions
cook orzo according to package, allow to cool
combine all veggies and beans in a large mixing bowl to combine
stir in orzo, feta and arugula & combine
whisk all dressing ingredients and drizzle on
serve room temp or chilled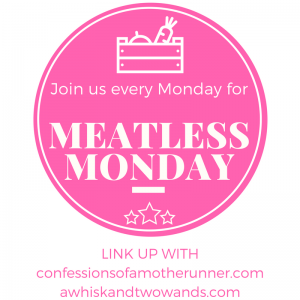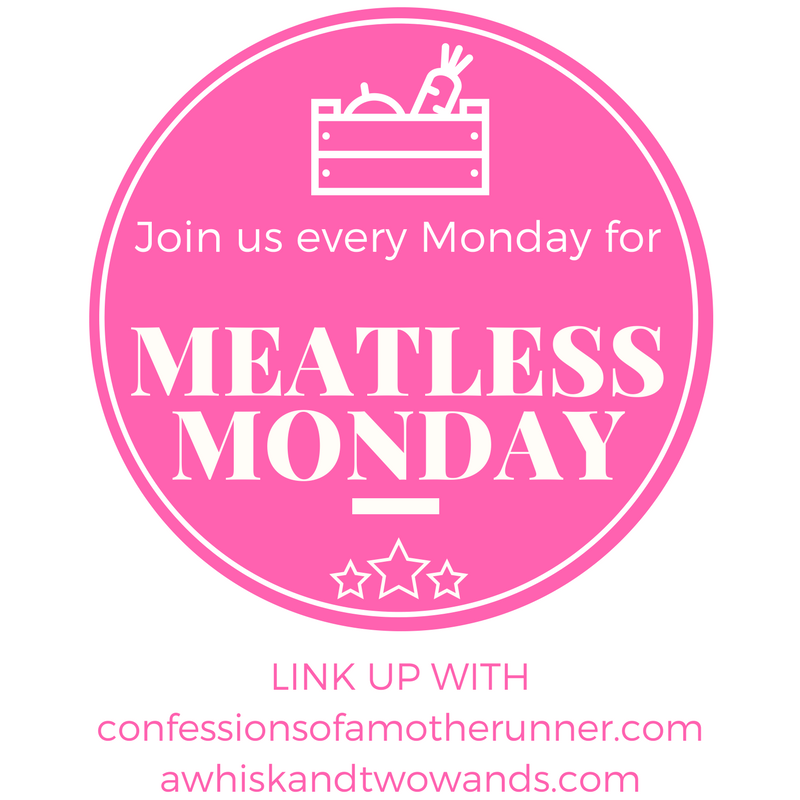 You are invited to the Inlinkz link party!