Thanks for joining Coco and me for the July Ultimate Coffee Date today. These catch up posts are always some of my favorite to read and to write. So, let's get chatting as if we were having a real coffee date. I've got lots to share today!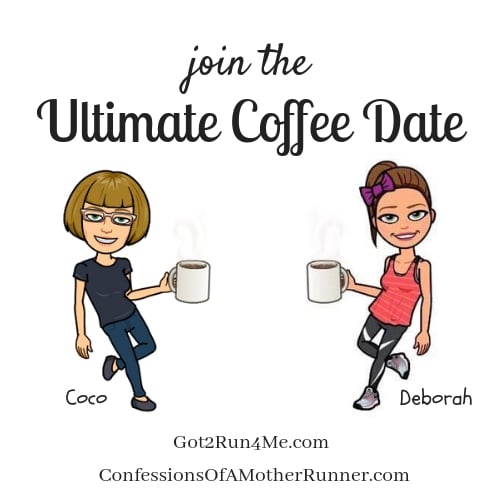 July Ultimate Coffee Date
If we were having coffee, I would tell you…Sometimes I seriously question my sanity! I realized on Sunday that I was 12 miles away from hitting 100 miles for the month on my Peloton. Hitting 100 miles would award me a virtual badge. So, even though I had already run and swam that morning, I jumped on my bike for a 30 min class. I finished the class and I was still short so I had to do 2 more 15 min classes. Seriously what is wrong with me? I did get that Silver badge though!
If we were having coffee, I would tell you…Our annual 4th of July run into DC is one of my favorite traditions. We run 5 miles into the city, have breakfast at Dog Tag bakery which is staffed by veterans and then Uber on home. Yes we do really Uber home. Yesterday though, 3 of us set off for a cool down walk and ended up walking the whole 5 miles back home. These feet are tired! Ironically, I also literally ran into Coco on Key Bridge coming home. She was biking and we stopped for a quick chat.
If we were having coffee, I would tell you...I seem to have amassed quite the collection of sunglasses. I was lucky enough to receive 2 pairs of Knockaround sunglasses from BibRave about a month ago. I loved them so much that I have bought 5 more pairs. Knockarounds are light and stylish and come in so many super cute colors I just cannot help myself. I am finding it quite fun to color coordinate my outfits. At a price point of $15-25 dollars a pair they are quite a steal. Currently they are on a 4th of July sale and you can double up with my 20% off discount code (bibraveknocks2) which gives you 40% off. Don't miss it!
Current faves:
Ha and my husband thinks I have too many pairs of running shoes.  I received 2 pairs of Knockaround glasses to review as part of being a BibRave Pro. Learn more about becoming a BibRave Pro (ambassador), and check out BibRave.com to review, find, and write race reviews.
Thanks for joining us for the July Ultimate Coffee Date. If we were having coffee, what would you tell me?
You are invited to the Inlinkz link party!