Thanks for joining Coco and me for the October Ultimate Coffee Date today. Is there anything better than a coffee date with friends? Grab a mug of your favorite brew and let's catch up.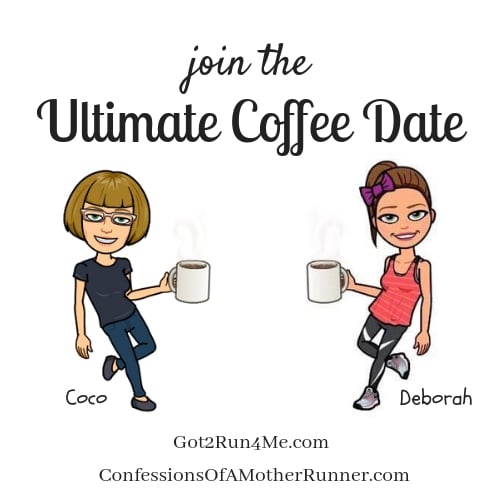 If we were having coffee, I would tell you...We just finished up our second week of the fall Girls on The Run season. This is my 12th season coaching. Every season I so look forward to seeing my girls again and watching them grow throughout the 3 months. I have the 6th grade girls again so they are young enough to still think I am kind of cool and old enough to really engage in our lessons.
If we were having coffee, I would tell you…After a lackluster summer of running, I am ready to kick my training back into high gear for fall. I have started working with Jessie again and I am ready to start training for 2 10K's in November and the Jingle All the Way 15K in December. After all, I need another excuse to pull out that outfit again.
If we were having coffee, I would tell you…It just kind of hit me that in 6 weeks I will be turning 50! How did that happen? Feeling like I need to celebrate for the entire month of November. While I am not into a big party, I hope to do a bunch of smaller events with friends and family. More on that next month when I figure it all out.
You are invited to the Inlinkz link party!