Thanks for joining Coco and me for the December Ultimate Coffee Date today. I have lots to chat with you about on this week. So let's get right to it. Grab your coffee mugs and join us.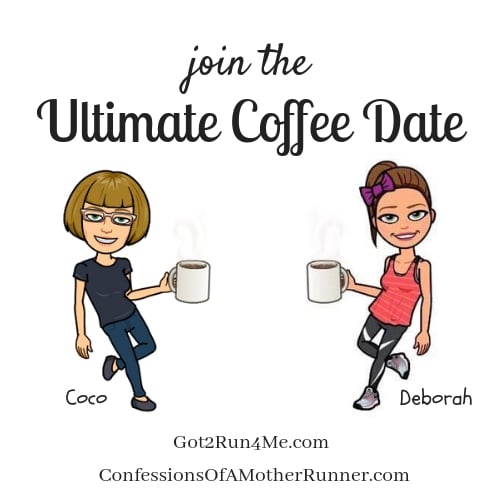 If we were having coffee today, I would tell you…I have a super packed weekend of holiday fun in store. Tonight I am hosting our Moms Run This Town Holiday Party and looks like we have a record turnout. I've missed seeing everyone while recovering from my hamstring/hip thing and will be great to catch up. This is a photo from 2017. We won't be able to fit on the couch this year.
If we were having coffee, I would tell you…While it took me 10 months to achieve my 100th Peloton ride, I will hit my 150th ride today 2 months later. I got in a lot more biking the last month while recovering from my injuries. I also started doing the warm up and cool down rides.
Speaking of Peloton…I am sure you have all heard the flack about lots of people thinking their new commercial is sexist and has body shaming aspects to it.  Of course I am biased because I am a huge Peloton fan however, I think they have it all wrong. The Peloton community (similar to the running community) is comprised of people of varying shapes, sizes, sexes and ages. The facebook groups that I am a part of are nothing but encouraging and accepting of all the members. I have personally never heard an instructor mention calories or body shapes etc. I also believe that not everything has to be looked at under the sexism and "me too" lens. To quote Freud, sometimes, "a cigar is just a cigar" .That's my 2 cents!
If we were having coffee, I would tell you...this fall season of Girls on The Run just flew by way too fast. We had our last session and end of the year pizza party this week. Arguably the most favorite day for the girls! I will miss these cuties until I see them again in the spring. Our team also collected canned goods to donate to the local food bank and it was really nice to be able to drop off such a big donation. Shoutout to my fab co coaches who made this season even better.
Okay, your turn! If we were having coffee today, what would you tell me? PS don't forget to enter my huge fitness giveaway. Thanks for joining the December Ultimate Coffee Date.
You are invited to the Inlinkz link party!