Thanks for joining Coco and me for our July 4th 2020 Ultimate Coffee Date Linkup. Who knew when we started doing virtual coffee dates years ago that we were trendsetters? Ha! So please, join us (from six feet away) and let's catch up over coffee.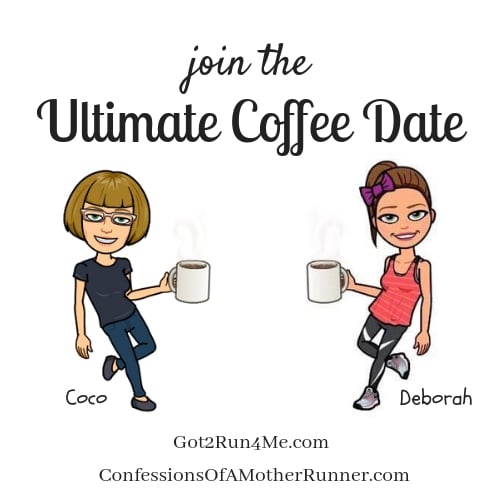 July 4th 2020 Ultimate Coffee Date
If we were having coffee, I would tel you…
I have not been into an actual coffee shop in almost 4 months. I have not even done curbside pick up or a to go coffee either. It's funny, I used to grab a coffee from the Starbuck's inside my grocery store and stroll around and browse and decide what to cook. While the Starbucks is open again, I sure am not in the strolling mood at the grocery! Surprisingly, I don't miss it all! Don't get me wrong, I am still drinking coffee everyday just at home. At almost $5 a cup, I guess I am saving a lot of money that I can now spend on workout clothes and running gear.
If we were having coffee, I would tell you…
I am sad that we cannot have our huge group 4th of July run into DC this year. We all really love that tradition that has us running from Arlington, Virginia into Georgetown. We usually stop along the way for photos and end up at a yummy bakery downtown. We are just not comfortable trying to pull that off this year sadly. Maybe labor day? So here's a photo of last year's run.
So if we were having coffee today, I would ask you do you have any plans for the 4th of July? I suspect I will be hanging by the pool with the hubs. I would also ask you if you drink iced coffee or hot coffee in the summer? FYI the August Coffee Date will be August 7th.
You are invited to the Inlinkz link party!