Hi friends! Feels like it's been a while since our last coffee date. I am grabbing my extra large mug because, as usual, I have lots to chat about. Grab a chair and let's catch up. If we were having coffee today, what would you tell me?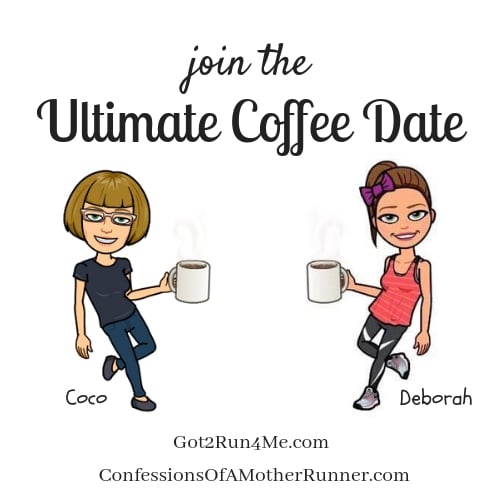 May Ultimate Coffee Date
If we were having coffee…
I would say, "can't believe I didn't think of that"! Listen to my run was started so runners could have someone to talk to about their runs, their training, etc who would actually listen and pretend to be interested. Yes, seriously that's what they do. The first 5 minutes are free and after that it's $5.99 a minute for another runner to hang out and listen to you relive your latest run. Chat about your Strava local legend status or about how eating oatmeal before your run was the best idea ever. They want to hear all the details about your race or run. Seriously, genius idea why didn't I think of that?
If we were having coffee…
I would tell you that I am almost finished with my NASM Nutrition Coach Certification. Admittedly, did not love some of the science of digestion section but overall, it's been an interesting and informative program. I am excited to figure out what to do next. Any ideas? Has anyone used a nutrition coach before? Would love to hear about your experience.
If we were having coffee…
Finally, I would tell you that my son is coming home tonight from college for the summer. We have not seen him since January and I can't wait to hug him. The year he was born was also Mother's Day weekend so seems apt for him to be arriving again just in time. While I am sure, hanging out at home won't be as exciting as college life, I am glad to have him back for a few months.
Thanks for linking up with Coco and me today. Happy Mother's Day everyone! If we were having coffee, what would you tell me?
You are invited to the Inlinkz link party!