This shop has been compensated by Collective Bias, Inc. All opinions are my own. #collectivebias #SootheYourSoreSpots
So many times, I've found myself scrambling around to get all of my race gear in order before heading out to participate in a race. It's hard to think of everything you might need of course, so having a few basics along is a must. When we started doing Ragnar races a few years ago, I volunteered to set up our van first aid kit. Since then, I find it so helpful to just have a ready to go First Aid kit that I can take along in my race bag or leave in my car. That way, I am good to go with my own Post Race First Aid Kit for almost anything that might arise.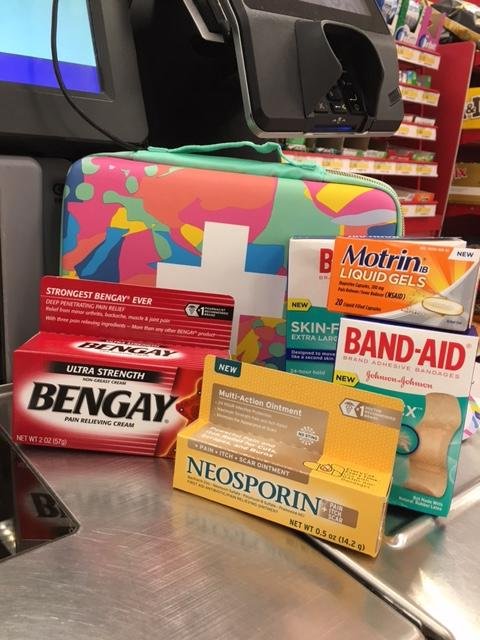 BTW this is a fun new "shoppable image" check it out.
Last weekend, I was out of town for my Sprint Tri race and was so glad that I had this Post Race First Aid kit with me. My shoulder/bicep area was really sore from earlier in the week. I was not sure how I was possibly going to swim the next morning without being in pain. The BENGAY® Ultra Strength Cream was a life saver! I used my plastic bag filled with ice first then applied the BENGAY® Ultra Strength Cream. Right before bed, I also took two of the Motrin® liquid gels and hoped for the best.
I was feeling better in the morning but applied another coating of BENGAY® Ultra Strength Cream just in case. While it certainly won't cure an actual injury, it did make my shoulder feel much better.
Post race I returned to our hotel and repeated the ice, BENGAY® Ultra Strength Cream and Motrin®. I am feeling much better today and with a few days of rest I should be back to myself and ready to take on my next adventure. #SootheYourSoreSpots
How to Build A Post Race First Aid Kit
I found everything I needed to stock my Post Race First Aid Kit right at my Target®.
Oh Joy First Aid Bag (free with purchase of 3 participating products at Target find them here)
-BENGAY® (Ultra Strength Cream) -muscle soreness
-Motrin® liquid gels -muscle soreness, aches/pains
-Neosporin® -antibiotic ointment
Band-aid® skin flex (multiple sizes) cuts & scrapes, blisters
Benedryl Spray- bug bites
nail file/scissor/tweezers -splinters, hang nails
-Tums -stomach issues
-Body wipes
-hand sanitizer
-large plastic bag  (for ice)
The BENGAY® Ultra Strength Cream, Motrin® and large plastic bag were life savers for me this weekend. Things you hope you won't every need but are always glad you have. It's easy enough to throw the First Aid Kit right in my race bag and from now on, I will make sure that I do. #SootheYourSoreSpots
What First Aid items do you bring along? What else should I add to my bag?
©Johnson & Johnson Consumer Inc. 2017 The third party trademarks used herein are trademarks of their respective owners.
Linking up
Tuesdays on the run (Erika, Marcia, Patti)
Coaches Corner (Suz, Debbie, Rachel, Lora