Thanks for joining Coco and me for The April 2020 Ultimate Coffee Date today. Wow have things sure changed since last month's meet up! I am going to try to focus on positive things to share with you today. In fact, I am not even going to mention the "C word" at all. So grab your mugs and let's catch up over coffee (or tea or wine) because anything goes now!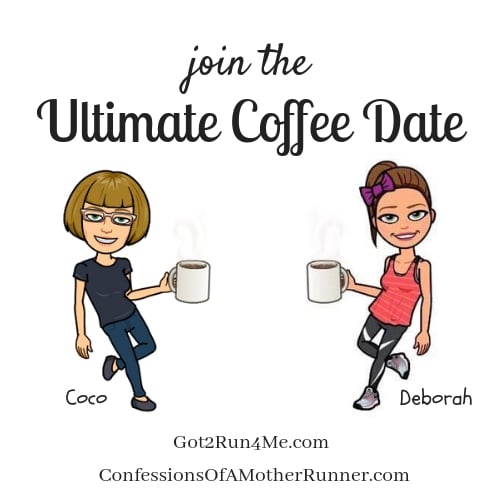 April 2020 Ultimate Coffee Date
If we were having coffee today, I would tell you…
I was supposed to be running my 9th Cherry Blossom 10 miler this weekend. Although, the cherry blossom trees peaked a few weeks ago, the weather would have been just perfect. I opted to do the virtual run 2 weeks ago and was even able to find my own cherry blossoms on my route. Next year will be my 10th running of this race and I believe that will earn me a special 100 mile medal. Something to look forward to indeed.
If we were having coffee, I would tell you…
As you all know, I have had a love affair with my Peloton for the last 16 months. However, I have never loved it more! It has truly been a godsend these past few weeks. I am taking advantage of lots of new classes that I never tired before. I am loving the strength training classes way more than I expected. I also hit my highest cycling mileage count yet finishing the month off with 122 miles.
If we were having coffee, I would tell you…
I am also doing a ton of baking (and eating) right now. Getting used to cooking with what we can find and what we have is a good lesson. Sneak peek of Monday's Meatless Monday: Cranberry Bliss Oatmeal Breakfast Cookies. If there was ever a time for cookies for breakfast, that time is now.
Thanks so much for joining us for the April 2020 Ultimate Coffee Date. These virtual friendships mean so much to me and I appreciate your spending some time with us today. Tell me something positive that all of these unexpected changes have offered you?
You are invited to the Inlinkz link party!